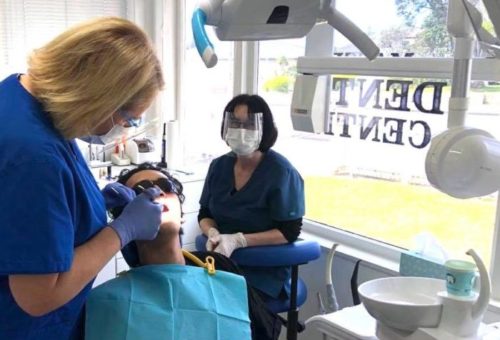 Auckland – Level 3
Oral health professionals working within the Auckand region will be following Ministry of Health & Dental Council New Zealand Guidelines for oral health services at COVID-19 Alert Level 3 from 6am Sunday 28 February, for the next 7 days.
Under level 3 we are ONLY able to provide urgent and emergency care for their patients. This includes pain, swelling and infection. All other care must be deferred.
Patients are required to phone ahead so that the consultation and screening questions are able to be completed.
Please note if you had an appointment this week the appointment will be cancelled and we will call you to reschedule once we have more clarity on when Auckland will return to Alert Level 2.
Please stay safe and we look forward to seeing you soon.
Welcome to 
Massey Dental
Massey Dental Centre is a long established practice that has been proudly servicing our community for over 40 years. Our caring and friendly practice aspires to provide you with a healthy, confident smile in a comfortable and relaxing atmosphere. You will be greeted on your arrival by our friendly receptionist, Rogayah Harker.
testimonials

The team at Massey Dental are great. An amazing atmosphere and working environment.

Extremely fast. Could fit me in their busy schedule before my trip overseas highly recommended. Excellent customer service. Kind and friendly overall.

The new airflow treatment is the best clean I have ever had. I have super sensitive teeth and with the airflow I had no problems! Thanks Tori and the team at Massey Dental!
Katica Catic
General Dental Practice
Sudha Lal
Dental Hygienist
Tori Robinson
Oral Health Therapist
Our friendly practice is
looking forward to your call
contact us